Well because I have been slacking on recipes and sharing my meal prep I decided to link up with Trista for her top ten Tuesday!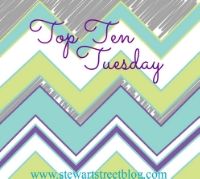 This week's is Top Ten Workout songs...can we just change this to Top Ten songs I want to dance to? These are in no particular order because I couldn't decide which ones are better than the others and didn't think that was fair or maybe I just didn't want to make the decision ha
1.
Tupac-Hit 'Em Up
2.
Juvenile-Back That Azz Up
3.
Lil Jon- Get Low...You scared...you scared
4.
Ying Yang Twins-Salt Shaker....Do you see a pattern here? I might possibly like to shake my azz
5.
E-40-Tell me when to go....Put your Stunna shades on
6.
Chris Ledoux-8 Second Ride-One of my favorite men of all time
7.
The Whispers-Rock Steady
8.
Breaking Benjamin-I will not bow-I like all different kinds of music if you couldn't tell
9.
Ursher-Yeah!
10.
Pitbull-Go Girl
So because I haven't been cooking much I decided to show you what I have been doing. Lots of Bridal shower and wedding decorations.....They aren't all done but here is a sneak peek (hopefully the bride doesn't read this lol)
Tissue paper flowers...these are fun to make
It says "You'll be my glass of wine, I'll be your shot of whiskey". Don't mind my handwriting


Burlap Banner


Anyone have any great ideas for affordable bridal shower favors???