Can we just say so what to this week and get it over with?? Not that it has been a bad week but it's Wednesday and I'm exhausted. I finally finished all the decorations for the bridal shower and wedding. It was one of those moments where I wanted to cry because I was so proud of myself for getting it done lol Yeah I know crazy town right here!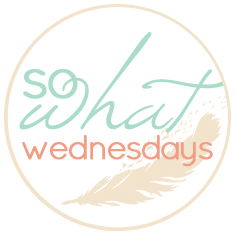 So what... ...I stayed up till 11:30 last night watching the Rockies lose. Went to bed and realized I hadn't made my bed after washing everything but was too tired so I slept on the couch ugh
...I started packing and haven't even got the appraisal on my house yet (wishful thinking)
...I have a 5k May 4th and haven't been running...oops
...I CANNOT stop playing Candy Crush Saga...Curse those people that got me hooked!!
...This is my first post this week...bad blogger
...I have a mouse that lives in my car and eats all of our coats lol
...That yesterday it rained sideways, hailed sideways and then snowed sideways. Mother Nature is such a tease!
Oh ya know just showing you the bi-polar Colorado weather.
Oh yeah and my weekend was pretty great....3 days late ha
Friday-Marcus and I just hung out and watched movies, it's so nice to stay home sometimes!
Saturday-We hung out, did some cleaning and laundry then I dropped him off with my Grandma.
For my Dad's birthday my sister and I bought him tickets to see Johnny Gill. If you don't know who he is after you hear this song you probably will...
He still can sing his ass off but the place went had terrible sound. When people started clearing out towards the end we rushed to the front so we didn't miss anything, we got our money's worth!
Johnny Gill....my phone sucks lol
My dress matched the carpet haha
My sister and I decided to dress up since it has been so warm...FAIL. It was windy and cold and we parked a mile away BRRRR!
Sunday-My dad taught me how to change my own oil and brakes. My brakes were so dangerous eek. I love learning this stuff! I'm so frugal
cheap
I would rather do things myself!
One of the best things about the day was hanging out with my dad and jammin out. He always brings me back to my childhood and reminds me why I'm such a Daddy's girl...everyone say it now AHHHH lol
He might get sick of me when we move in though!
By the way if anyone wants me to make them some wedding/party decorations I am saving to buy another house...help a sister out lol
I promise to be back tomorrow with pictures of the decorations that I made!
Hope everyone is having a fabulous Hump Day!